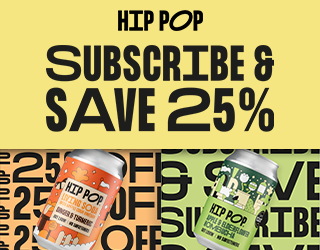 Why you should subscribe to Hip Pop?
Are you tired of constantly restocking your fridge with your favourite Gut Lovin' Drinks? Don't worry, we've got you covered with Hip Pop's subscription service - the easiest way to enjoy your drinks without lifting a finger (well, maybe just one to click "subscribe").
Here's the deal: you can choose to subscribe monthly and save 10% on your drinks, or go all-in with a pre-paid subscription and save up to 25%. It's a no-brainer, really.
Wait there's more...
But the best part? We'll deliver your carefully crafted, brewed-to-perfection drinks straight to your door every month, so you can sit back, relax, and enjoy them whenever you like. And if you ever need to take a break – whether you're going on vacation or just need a break – you can easily pause your subscription through our customer portal or by contacting our super helpful customer support team.

So what are you waiting for? Say goodbye to the hassle of restocking and hello to the ultimate convenience and savings of Hip Pop's subscription service. Subscribe now and get ready to party (or just enjoy a quiet night in with your Gut Lovin' Drinks - no judgement here).
Subscription FAQs
Yes, if you bought a subscription product you can change it yourself via the subscriber admin area. However, if you bought a subscribe and save subscription, then you will have to contact customer support so we can move you to the flavour you would like. If in doubt, reach out to our wonderful customer support team just give them a call on +44 161 401 2191 or drop us an email at hello@drinkhippop.com
Yes, you can cancel or skip at any time. Depending on the type of your subscription, if you cancel a monthly subscription you will not be billed for your next month and the subscription will stop. However, if you cancel a pre-paid subscription (quarterly or annual), you will continue to receive your deliveries until you next subscription date.
Depending on the length and type of your subscription, you could save up to 25% on your Gut Lovin' Drinks! We offer a 10% saving on monthly subscriptions, 15% on quarterly subscriptions and a massive 25% saving on all annual subscriptions! Don't worry you'll still get your drinks delivered monthly, we aren't going to deliver 288 cans at once!
In short - yes. However, you won't be able to do this on our website. If you are looking for a bespoke subscription then we can help you with that, just give customer support a call on +44 161 401 2191
Need to chat to a member of the team?
If you have any unanswered questions or need some help with your order then click below.