cbd Kombucha Cans
Hip Pop CBD Kombucha cans are refreshing, delicious and fermented with gorgeous living cultures and plus 15mg CBD.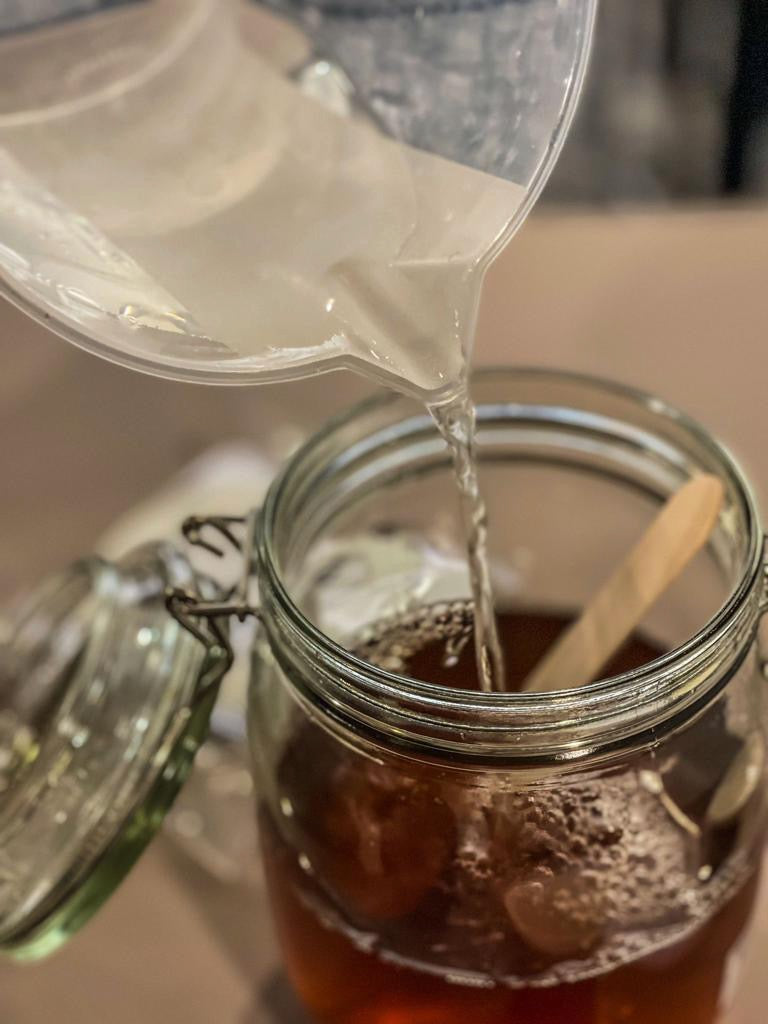 What is CBD Kombucha?
Hip Pop's CBD Kombucha is a fermented tea that's packed with live cultures, vitamins, and infused with 15mg CBD. The CBD in our kombucha will help you relax and feel naturally calm whilst enjoying a refreshing soft drink. By drinking CBD kombucha you will be able to enjoy the potential benefits that both kombucha and CBD have to offer.
But what makes our CBD kombucha different from all the rest?
For starters, it's vegan, lower in sugar, and made with no artificial sweeteners. Plus, it contains 15MG of CBD and bacillus coagulans, a bacteria that's had huge amounts of study around gut health. In other words, it's the trifecta of tasty and health-focused. We want our drinks to taste good and do good!
So why not give it a try?
Our CBD kombucha is the perfect drink for any adventure, whether you're exploring the depths of the ocean or just trying to survive a Monday. And trust us, once you try it, you'll be hooked. So go ahead, pop open a can and let the good times (and good bacteria) flow! Cheers!
CBD Kombucha FAQs
CBD, short for cannabidiol, is the non-psychoactive compound found in hemp plants.
No, it won't. In the UK, the regulation requires CBD to have no more than 0.2% THC (tetrahydrocannabinol which is the component in the hemp plant that has psycho-active effects). The CBD that we use is independently tested and regulated.
Yes, CBD is completely legal. However, there is some legislation for brands selling it for consumption. Fortunately for us (and you), we are the ONLY CBD kombucha brand to be on the Food Standards Agency's (FSA) list: CBD products linked to novel food applications. Therefore, we are legally the ONLY brand that can legally sell CBD kombucha in the UK!
In the UK, it's perfectly legal for children to have CBD. It is, therefore, a matter of parental decision-making as to whether or not your child consumes CBD.
Absolutely, many people swear by the results of using CBD. Whether you're looking to feel more balanced, calm or focused, give it a go and see how you feel. Once you've tried it let us know what you think, we love to hear your feedback.
There aren't yet any scientific studies that prove why kombucha is good for you so we don't know whether it's natural vitamins, antioxidants, organic acids or the living cultures that cause people to come back for more. Hip Pop is one of the only kombucha brands in the world that harnesses a bacteria called Bacillus Coagulans which has undergone rigorous scientific studies. These mighty living cultures are added to every can PLUS all the yet unknown benefits of fermented kombucha with all its other wonderful properties.

We then add CBD to our kombucha to help you relax and feel naturally calm whilst enjoying a refreshing soft drink. By drinking CBD kombucha you will be able to enjoy the potential benefits that both kombucha and CBD have to offer.
The Food Standards Agency (FSA) recommends a maximum dose of 70mg of CBD daily. If you're new to CBD we recommend that you start with 1 can a day and gradually increase your intake. Give it a go and see how you respond to find out what amount works for you.
Unfortunately no. It's a bit like beer, wine or coffee, you get the mass-made stuff and then you get carefully craft-made booch. Hip Pop kombucha is brewed in a traditional craft way on a beautiful farm in Manchester. Plus, we add 15MG of CBD to each can, so you can enjoy the benefits of Kombucha and CBD in one tasty soft drink.
We use a small amount of cane sugar to feed the gorgeous kombucha cultures. Any residual sugar is broken down during fermentation so it's easier for the body to process. Per 100ml, our kombucha varies from 2.6g to 2.8g. To put things into perspective it's less than natural carrot juice. Natural Orange juice is around 8g and bottled smoothies can be as high as 18g. We never use ultra-processed sweeteners such as stevia or erythritol found in zero-sugar kombucha.