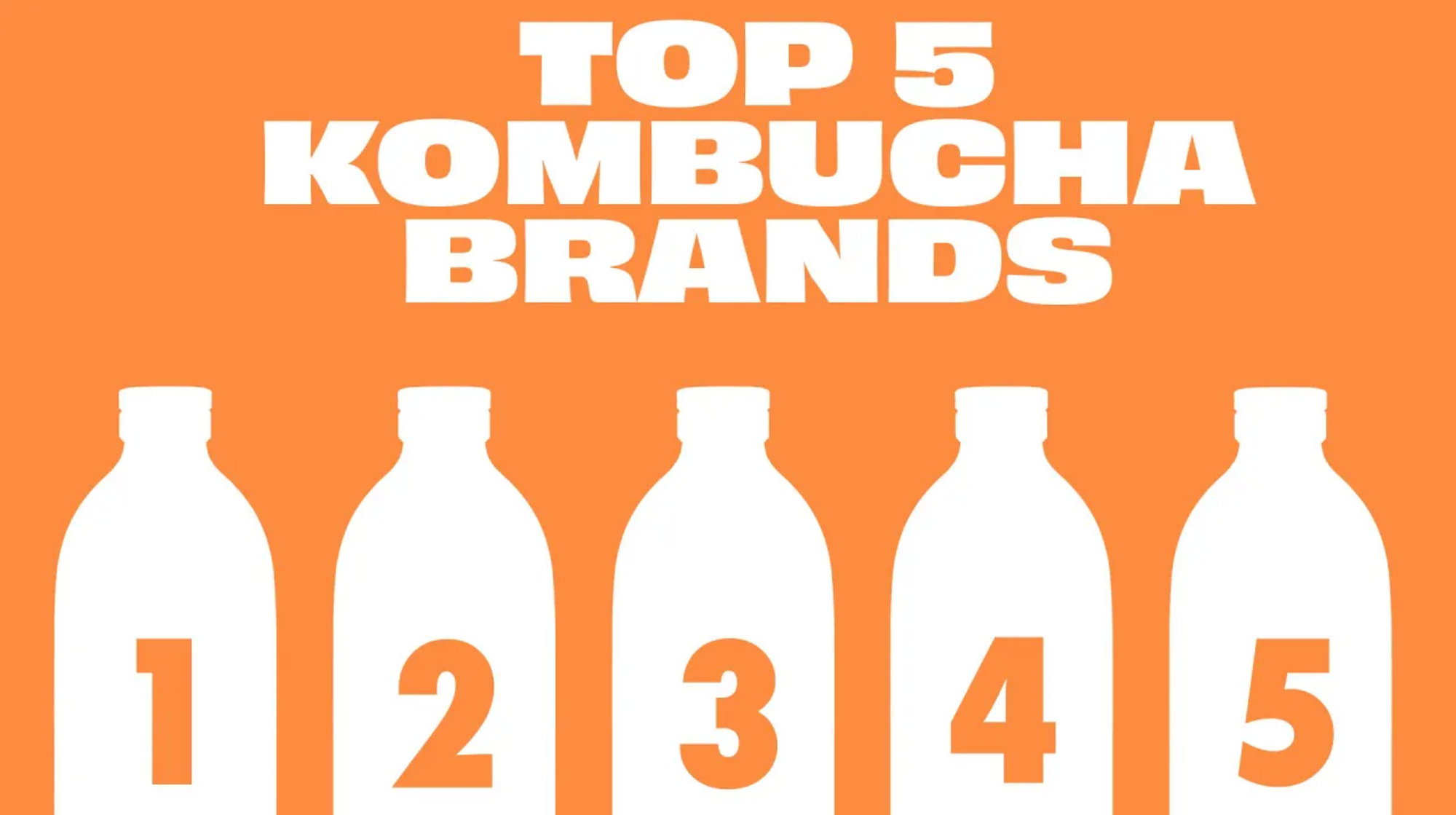 · By Elspeth Sargeant
Top 5 UK Kombucha Brands
In this Blog, we are going to explore our favourite UK Kombucha brands. It's no secret that our co-founder, Emma, loves her daily dose of Kombucha. Emma has been a Kombucha enthusiast for over a decade, brewing her own kombucha at home and tasting all kinds of brands whilst living in both the USA and the UK.
Kombucha can often be an acquired taste so it is important to find the right one for you. We often tend to choose Kombucha brands that steer clear of added sweeteners, both natural and unnatural. We do this because we believe using natural and unprocessed ingredients, like sugar, is best.
You may be reading this blog as a Kombucha connoisseur looking to expand your brand knowledge or a newbie Kombucha drinker who doesn't know which brand is best for them. If you're a newbie, don't worry, we are going to run through the basics of Kombucha first from its origins to frequently asked Kombucha questions.
Origins and Commonly Asked Questions 

Alright, let's take a moment to talk about something: SCOBY. It's this intriguing component that's at the heart of Kombucha. For those not in the loop, SCOBY stands for "Symbiotic Culture Of Bacteria and Yeast", and it's the very thing that transforms a simple sweet tea into a deliciously alive Kombucha.
Speaking of which, did you know Kombucha has quite a storied past? Its rich heritage stretches all the way back to the Far East. It is thought that Kombucha might have made its debut in ancient China during the Tsin Dynasty, right around 221 BCE.
These days, many folks are chatting about the potential health benefits it offers. Kombucha has multiple health benefits from aiding digestion to possibly strengthening the immune system.
 
Oh, and just a side note — if you're pondering whether Kombucha contains alcohol, it does have small amounts due to its fermentation. But rest assured, it's considered non-alcoholic since it typically measures in at less than 0.5% abv.
 
The good news is that you can drink Kombucha every day. However, we always suggest that you consult with your doctor first. 


Check out this video:
Top 5 Kombucha Brands UK (2023)
From our YouTube channel - The Gut Health Channel
The best Booch' in the UK
MoMo Kombucha
MoMo's is a London-based Kombucha brand that produces raw, unpasteurised and unfiltered Kombucha. MoMo comes in a glass bottle and has three different amazing flavours to choose from. The flavours that MoMo's produce are: 
Raspberry and Hibiscus 

Elderflower

Ginger and Lemon
As MoMo's is unfiltered you may encounter some SCOBY floating in their bottle but don't worry, this is the good stuff! 
We tried MoMo's Elderflower Kombucha. It has a tangy flavour and the elderflower really comes through. You almost taste the gut-loving bacteria as MoMo's has a great traditional Kombucha flavour. You can find MoMo's on their own website, as well as on Amazon and Ocado.
Fix8
Fix8 are based in London and they stand out as they have a beautifully designed collection of cans. They have 3 flavours which include: 
Strawberry and Basil 

Sicilian Citrus 

Ginger and Turmeric 
What makes Fix8 a little bit different is that they add Vitamin C to all of their drinks. Vitamin C is great for immune health and can aid those wanting to adopt a healthy lifestyle.
We tried Fix8's Strawberry and Basil which was sweet, basil-y and beautifully fizzy. You can find Fix8 in Waitrose, Ocado, on their own website and Amazon.
Equinox
Equinox is an OG in the UK Kombucha scene. Equinox is based in Yorkshire and they brew organic kombucha which you can find both in bottles and cans. They have an extensive range of Kombuchas which includes the Cottage River range which they designed with Hugh Ferning Whittingstall, as well as their Chill Out Kombucha range with added ashwagandha. Their core Kombucha flavours are wide and include: 
Original

Wild Berry

Raspberry and Elderflower

Pink Grapefruit and Guava

Peach and Turmeric

Ginger
As their Kombucha is raw you may find small bits of SCOBY floating around peacefully in the bottle. Equinox has won multiple Great Taste Awards and has become B-Corp in recent years.
We tried their Raspberry and Elderflower Kombucha which was beautifully sparkling with refreshing zingy notes. You can find Equinox on their own website, as well as, in your local Co-Op, Waitrose and online at Amazon. 
HOLOS 
HOLOS Kombucha is based in Sussex and London. Their Kombucha comes in both bottles and cans. They have a fun party Kombucha which comes in a large bottle and is great for Kombucha sprays! HOLOS offer five flavours: 
Citra Hops 

Basil and Mint 

Classic 

Ginger and Hibiscus 

Elderflower
HOLOS has an amazing social purpose where they allocate a percentage of their shares and work alongside charities which help people who have been involved with modern slavery. HOLOS also provide work opportunities to people who have been affected by modern slavery in their brewery.
HOLOS Kombucha is RAW so you may find small amounts of SCOBY floating around similar to Equinox and MoMo's. HOLOS also holds a few Great Taste Awards which is unsurprising as their Kombucha is delicious.
We tasted their Ginger and Hibiscus Kombucha which was refreshingly fiery. You can find HOLOS online through their own website, Amazon, Ocado, as well as, in some selected M&S Stores.


LAID BEAR
LAID BEAR are a Manchester-based Kombucha brand which produces small batches in a craft brewery. LAID BEAR produce two flavours which include: 
Ginger Kombucha 

Lime and Mint Kombucha
One of the cool things about LAID BEAR is that their base tea is black tea, green tea and jasmine green tea. We tried their Ginger Kombucha which was beautifully fiery and included that classic Kombucha taste. 
If you would like to try LAID BEAR you can find them online on their own website, as well as, in many local independent Manchester stockists. 
Let's round this up
In this blog post, we have discussed our top 5 favourite UK Kombucha brands. We have taste-tested each and every one and marked them with the Hip Pop stamp of approval!
We urge you to go out, try multiple brands and see which one is for you. If buying commercial Kombucha isn't for you, you can make your own at home. We can't wait for you to start your Kombucha journey and find what works for you.